CRC Biltmore Shingles
Our most popular shingle among contractors and discerning homeowners alike, it adds architectural interest that boosts your home's curb appeal. Their dimensional profile and deep shadow bands mimic the look of wood shake construction to create a high-end designer look for your home, all at an affordable cost. Choose from a huge array of colours to coordinate perfectly with your home's style; whether rustic or urban, traditional or modern.
Specifications
Size:
1038 mm x 349 mm (40 7/8″ x 13 3/4″)
Exposure:
149 mm (5 7/8″)
Coverage Per Package:
3.1 m² (33.3 sq. ft.)
Qty Per Pallet:
56 bundles
Quantity Per Unit/Package:
20 shingles/bundle
Warranty Term:
Limited Lifetime
Limited Wind Warranty Upgrade:
210 km/h / 130 mph
Iron Clad Protection Period:
15 years
30 YR BILTMORE
SKU
COLOUR
SKU
COLOUR
30BHS
HARVARD SLATE
30BDBL
DUAL BLACK
30BCG
CHARCOAL GREY
30BDG
DUAL GREY
30BD
DRIFTWOOD
308EC
EARTHTONE CEDAR
30BW
WEATHERWOOD
20100050
DUAL BROWN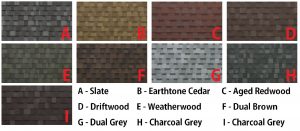 View dealer site for more details.